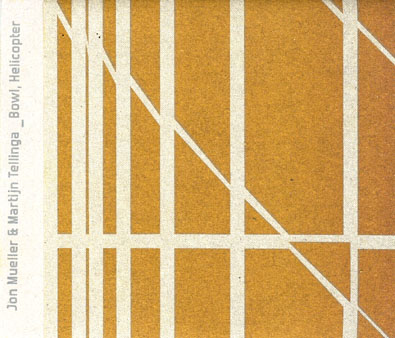 JON MUELLER & MARTIJN TELLINGA - BROMBRON 13: BOWL, HELICOPTER
Korm Plastics KP 3028
miniCD only

Korm Plastics is proud to present the thirteenth release in the Brombron series. Originally a co-production between Staalplaat and Extrapool, it is now hosted by co-curator Frans de Waard. In the year 2000 Frans de Waard and Extrapool started the Brombron project. Two or more musicians become artists in residence in Extrapool, an arts initiative in Nijmegen, The Netherlands, with a fully equipped sound recording studio. These artists can work in a certain amount of time on a collaborative project; a project they always wished to do, but didn't have the time or the equipment to realize.
Jon Mueller and Martijn Tellinga have started a collaboration to explore the musical dialogue between the instrumentalist and realtime computer-performer. Their mutual interest in the outlining and structuring of improvisation, both in sonic properties and compositional shape, resulted in an ensembled playing that is partly responsive, partly autonomous.
During their residency at the Extrapool studio in Nijmegen, Netherlands december 2005. During this residency they experimented with a system that consisted of live-sampling and processing of Jon's playing, on top of a layer of pre-recorded soundmaterials taken from a previous session. Crucial to this system, was that the actual triggering of the samples and processing in the computer during performance was also caused by that same playing; i.e., while Jon was improvising he not only provided new sonic material for recording, but also triggered previously recorded events. The realtime manipulation and transformation of these events was done by Martijn following that same structural order. This experimental system was developed to get to a musical body that can either blend into one (percussion and computer) or exist as two entities that function in an autonomous way (bypassing the triggering and playing the computer as a stand-alone instrument, using the same set of soundmaterials) and perform by listening and responding to each others input. This can be seen as an attempt to get beyond the many electro-instrumental collaborations where the computer-performer seems to function as a huge effect-processor of the instrumental input, and by doing that, reduces the instrumentalist to a soundsource for realtime processing.
Jon Mueller has been an active drummer and percussionist since the early 90s. Whether utilizing bombastic minimalism, dense interplay, or electroacoustic practices, his approach focuses on a physical dialog between situation and material. He has been featured on numerous recordings and has performed throughout the U.S., Japan, and The Netherlands. He has performed/recorded with: Aranos, Keith Berry, Jarboe, Tetuzi Akiyama, Jason Kahn, Asmus Tietchens, Jack Wright, Carol Genetti, Collections of Colonies of Bees, Tatsuya Nakatani, Hal Rammel, Steve Nelson-Raney, Jim Schoenecker, Bhob Rainey, Glenn Kotche, Pele, Steven Hess, Werner Moebius, Lionel Marchetti, Adam Sonderberg, Tim Catlin, Matt Turner, Achim Wollscheid, Fred Lonberg-Holm's Lightbox Orchestra and others.
Martijn Tellinga (1974, Netherlands) is a composer and sound-artist in the field of
new electroacoustic music and sonic arts. His work shows a great care for textural qualities and eye for compositoric detail and seeks its identity somewhere in the overlap of formalized form and intuitive musicmaking. More than relying on melody, harmony and rhythm, these works are constructed from the fundamental building blocks of music: timbre, texture, volume and time-elapse. Tellinga composes for quadraphonic- and multichannel environments, exploring both sonic directionality as well as spatial characteristics of the physical setting the work is performed in. Currently he is pursuing a Master's degree in Sonology at the Royal Conservatory The Hague ­ Netherlands, studying with Paul Berg and Kees Tazelaar.
In the past years his work has been performed and exhibited at numerous occasions in the Netherlands and international festivals in Belgium, France, Germany, Finland, UK, Austria, Swiss, Italy, Portugal, Greece and USA. Works have been commisioned by labels such as ­ Korm Plastics - (Hol), ­ Spekk - (Japan), - Cronica Electronica - (Portugal) and ­ Stichting Mixer - (Hol).
Tellinga has collaborated with several filmmakers, video-artists and autonome artists, providing soundtracks for animated ­ and short films and developing installation-like media environments. He has worked with a.o. Finnish filmmaker and journalist Sami Kallinen, autonome artists Jan Robert Leegte and Sagi Groner and is currently developing an integrated audio-visual performance with Austrian video-artist Dextro.
His ongoing project 'Boca Raton' particularly deals with the synthesis between concrete ­unstaged- sound and synthetic sonorities. As it has never shown any steady state what-so-ever, the project develops over time according to the composer's ideas and capacities, within the flexibalised margins of this field of interest. Together with Dutch composers Radboud Mens and Danny de Graan he forms 'Elmgar Ten', building soundinstalltions functioning as performance-tools. Furthermore he has recently started an electro-instrumental collaboration with percussionist Jon Mueller, to explore the musical dialogue between the instrumentalist and realtime computer-instruments.
In 1999 he started the platform for contemporary electro-acoustic music Stichting Mixer, having organised numerous events and released over 25 titles today. Finally, he is programmer for the Dutch new music radiostation 'De Concertzender', being one of the 4 programmers for '230 Volt', a weekly program focussing on historic and contemporary electro-acoustic music.
This CD is available for 16 euros including worldwide shipping. You can pay with paypal. Send an e-mail to order

reviews
JON MUELLER & MARTIJN TELLINGA - BROMBRON 13: BOWL, HELICOPTER
(mCD by Korm Plastics)
Since 2000 the Brombron project offers small groups of musicians the opportunity to become artists in residence in Extrapool, an arts initiative in Nijmegen/The Netherlands, and realize a joint-project there. The 12th and 13th installment from the series come from Tetuzi Akiyama and Greg Malcolm and Jon Mueller and Martijn Tellinga respectively.
Percussionist Jon Mueller and electro-acoustic composer and sound artist Martijn Tellinga (aka Boca Raton), explore a set-up that consists of live-sampling and processing of Mueller's playing, on top of a layer of pre-recorded material from a previous session. The triggering and processing of the pre-recorded samples is caused by the percussive input, which is at the same time providing new material. Tellinga manipulates these events in real-time, but can also bypass the triggering and play the computer as a stand-alone instrument, using the same set of sound material. This results in a stream of concise acoustic marks, arranged in a sort of non-hierarchic way, in which repetition is absent and structure appears only on a micro-level, thus putting a strong emphasis on the individual sounds or small groups of sounds. At times these sounds seem to stand erratically next to each other, while in other passages they engage in small 'dialogues' or form porous accumulations. The two distinct 'voices' remain present and clearly distinguishable throughout, with the percussive work ranging from familiar figures, like, say, a short drum roll, to nearly-electronic sounding abstractions and the electro-acoustic counterpart consisting of a palette of sharp and precise clicks, clatters and whirls. It was probably a very good choice to release this as a mini CD, since this format seems very appropriate for such an austere work, while it might have been difficult to sustain its quality over the length of a full CD. At three tracks and a playing time of about twenty minutes however, the controlled playing and the atmosphere of extreme concentration work well and are utterly convincing. (MSS)
Address: http://www.kormplastics.nl
(Vital Weekly 566)


<<<