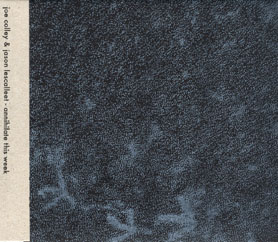 JOE COLLEY/JASON LESCALLEET - BROMBRON 09: ANNIHILATE THIS WEEK
Korm Plastics KP 3024

Korm Plastics is proud to present the ninth release in the Brombron series. Originally a co-production between Staalplaat and Extrapool, it is now hosted by co-curator Frans de Waard. In the year 2000 Frans de Waard and Extrapool started the Brombron project. Two or more musicians become artists in residence in Extrapool, an arts initiative in Nijmegen, The Netherlands, with a fully equipped sound recording studio. These artists can work in a certain amount of time on a collaborative project; a project they always wished to do, but didn't have the time or the equipment to realize.
Colley and Lescalleet had never met before their grey week in Nijmegen. Though neither of these melancholic composers were prepared for the conflicts and compromise of this collaboration, they found common ground in rejecting the need for deep meaning or complex concepts.
46 minutes remain after harsh judgement from two perpetually dissatisfied artists.
But what does it sound like?
Amidst the detritus of yard sale junk and old, broken equipment, Colley and Lescalleet engage in the pursuit of resurrecting the essence of sound and exposing beauty that others discard. Locked away in the recording studio of Geluidwerkplaats Extrapool for ten days, they found music in the natural process of decay. These compositions seem weathered and eroded. Rather than aiming for excitement or dazzling expression, Colley and Lescalleet embrace the tedium of everyday life as something beautiful and compelling. This is music with a slow absorption rate and a high toxicity.
SOLD OUT