KORM PLASTICS release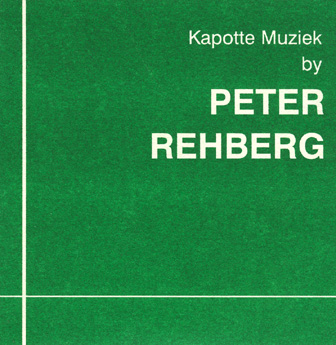 Peter Rehberg - Kapotte Muziek by...
Korm Plastics kp 3022
miniCD only
The fourteenth installment in this series is a mini CD by Peter Rehberg. For his rework, Rehberg used the recordings of the very first Kapotte Muziek workshop (and concert) held in september 1997, as part of Staalplaat's 'Masterclass' event at the Korzo Theatre, in Den Haag. Rehberg moved away from the digital computer noise recently and for this work crafted together a beautiful soft but outspoken piece of music. The piece lasts 17:30.
This CD is available for 12 euros including worldwide shipping. You can pay with paypal. Send an e-mail to order

reviews
PETER REHBERG - KAPOTTE MUZIEK BY (mCD by Korm Plastics)
When I became aware of experimental music in the 1990s Peter Rehberg/Pita was among the first people whose work I strongly admired. But about three or four years ago I lost track of what he was doing. So when I received this new release and read, that Peter Rehberg had recently moved away from his trademark digital noise, I got really curious and played it immediately. As it is probably well known among the readers of Vital Weekly "Kapotte Muziek by" is an ongoing series of recordings by Kapotte Muziek that are reworked by various artists. The material that Peter Rehberg presents here reveals that hazy quality of concrete sounds, which can be recognized as such, but whose origin cannot be traced back beyond that point. I don't know if this is characteristic of Rehberg's new approach or just due to Kapotte Muziek's original sounds, but it came as a great surprise to me. The piece starts with a low, vaguely metallic rumble that stays present throughout most of the track, gradually undergoing various transformations. Other sounds drop in and out of the mix, and in general things move at a rather slow pace. At one point the tension is raised, but it stays on a micro level and instead of reaching a climax it just fades. Towards the end the dark rumble disappears and there are some moments of silence, interspersed with isolated throbs. Then a shimmering mid frequency drone sets in, accompanied by tinkling bells. All of a sudden this stops and the piece is over. There is a dark feeling in this music, however it is not the aggressive type of darkness, but rather the cozy one. With this exploration of concrete sound sources Rehberg enters a territory that is usually mapped by people like Michael Northam, and Rehberg does succeed well. Indeed this is a good occasion for giving his older works a listen again as well as a reason for keeping an eye on his new releases. (MSS)
Address: http://www.kormplastics.nl (in Vital Weekly)
Trax preview:
PETER REHBERG « KAPOTTE MUZIEK by » (KORM PLASTIC / Metamkine)
Derrière PITA, co-directeur du label autrichien Mego, se cache Peter Rehberg, habitué des collaborations musicales (Christian Fennesz, Jim O'Rourke, Tujiko Noriko) et de l'univers de la danse (DACM compagnie de danse grenobloise). Pour ce douzième volume de la série « Kapotte Mueziek », Peter délaisse les murs de sons et le feedback des réacteurs d'avions, pour nous plonger dans une abîme sans fond. Une chute de dix-sept minutes, entre deux eaux. Un mélange d'acier noir et froid et de basses vibrantes, de tôle broyée sous la pression et de respiration courte. Dans un précipité nous happant vers le fond, on s'enfonce sans moyen de résister. Mais au terme de la chute, Peter nous promet la lumière. Faut il lui faire confiance ?
Peter Rehberg - Kapotte Muziek
miniCD - Korm Plastics
This is a reworking of the first Kapotte Muziek workshop (and live concert) held in September 1997. Originally it was the Frans de Waard studio project, based on the manipulation of sound 'scraps', shared then with other artists and become a Korm Plastics point of reference. Rehberg, aka Pita, is well known either as an electronic music author and dj, collaborating with such musicians as Christian Fennesz and Jim O'Rourke. His style indeed is less 'worldly' than his biography. It's minimal, sober and extremely elegant, meekly industrial and at the same time sensitive. These recordings won't change the course of this history, but they are significantly worth as a little but precious contribution made out of concrete sounds plus metallic and unmistakable frequencies.
Aurelio Cianciotta
http://www.neural.it/sound/2007/02/peter_rehberg_kapotte_muziek.phtml