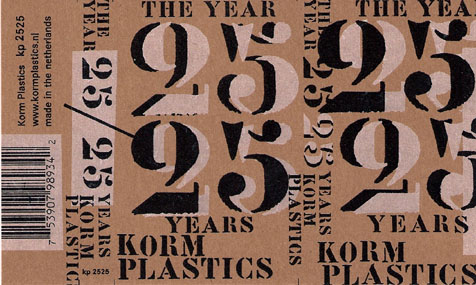 The Year 25 - 25 Years Of Korm Plastics
Korm Plastics KP 2525
Cassette only
barcode: 753907989342
In October 1984 Korm Plastics officially started by releasing the 'Katacombe Vol. 3' sampler. Now, 25 years, to mark this occasion Korm Plastics releases a compilation cassette, again. Each artist got two minutes and fifty seconds to fill, and there are twenty-five artists. Limited to 250 copies on blue tape, with on-body print, cover designed by Meeuw. All exclusive tracks by: Jos Smolders, Howard Stelzer, Machinefabriek, KK Null, Radboud Mens, Big City Orchestra, Edward Ka-spel, Ben Gwilliam, The Tobacconists, Francisco Lopez, Peter Duimelinks, The Haters, Freiband, Z'EV, Raymond Dijkstra, Asmus Tietchens, Idea Fire Company, Mirko Uhlig, Roel Meelkop, Richard Francis, Jason Zeh, Silverman, Illusion Of Safety, Pick-up and Stephan Mathieu. A fine mixture of microsound, noise and popmusic.

SOLD OUT

reviews:
Bad Alchemy 65: Auf The Year 25 / 25 Years Korm Plastics (kp 2525, Cass.) gratulieren alte und neue Freunde Frans, der nie erl–schenden KP-Pfeife und molligen Bienenk–nigin, zum silbernen Dienstjubil"um. Passend zum Geburtsjahr 1984 wurde auf das Ursprungsmedium Kassette zur¸ckgegriffen. Ich picke nur einige Beitr"ge heraus, die nat¸rlich allesamt auf 2:50 bemessen sind: ,This Is Not a Pipe' von Howard Stelzer und ,Linzsuppe' von Roel Meelkop (allein schon wegen der Titel), ,Happy Testing' von Machinefabriek und ,Een eenvoudig hart' von Stephane Mathieu (wegen des Muts zu ganz poetisch-klassischem Feeling), ,Dub Variations On Drone Number Three' von Radboud Mens (wegen der kiffigen L"ssigkeit), ,Elvis of the Modern World' von Edward Ka-spel (wegen des vercomputerisierten Gesangs), ,Mystery Of The Deep' von The Tobacconists (wegen dem Klabautermannthrill). KK Null und The Haters kn¸pfen an die krachigen alten Kapotte Muziek-Zeiten an, Meelkop vermittelt ans
andere Ende der Krachskala, zu Francisco Lopez und Richard Francis. Z'EV macht Geschepper von anno 1984 zum Geschenk, Asmus Tietchens das Echolot ,s.8'. Idea Fire Company l"sst ,Rope Of Sand' schwingen und wirbeln, Mirko Uhlig f¸hrt sein ,Snow Poiny' am Z¸gel, ,Vive La...' von Silverman ist so patina¸berkrustet, als w"r's von 1884, ,Bakeliet' von Pick-Up ist umzischeltes Gitarrenplinkplonking. De Waard splittet seinen Freiband-Beitrag, der die 25 vervollst"ndigt, zwischen Ende & Anfang der A- & B-Seite und bittet um Remixe. Typisch.