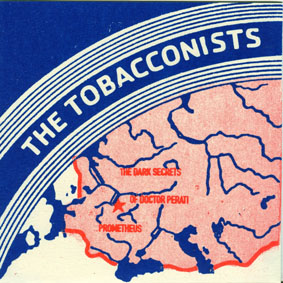 The Tobacconists - The Dark Secrets Of Doctor Perati/Prometheus
The Tobacconists, being Scott Foust & Frans de Waard, toured in April Europe and recorded a LP worth of material to be released by Tourette Records early next year. In the meantime there is now a 7" with two pieces not played during the concerts. The Dark Secrets Of doctor Perati is a gorgous piece that starts out in true industrial music fashion but ends with a microstoria organ and vocals samples. Prometheus on the other collects many field recordings into a strong rounded off collage of music. Released in an edition of 200 copies, 100 on Plinkity Plonk and 100 on Swill Radio.
Listen to excerpt
This 7" is available for 12 euros including worldwide shipping. You can pay with paypal. Send an e-mail to order
reviews
THE TOBACCONISTS - THE DARK SECRETS OF DOCTOR PERATI / PROMETHEUS (7" by Plinkity Plonk)
The Tobacconists are no other than Frans de Waard (some of you may have heard of him) and Scott Foust (some of you may have heard of him as well), both of them notorious smokers and versatile musicians. The first quality is aptly expressed in the design based on Russia's cheapest pack of smokes, Belamor Kanal: very nice indeed. The last quality is expressed aptly as well on this 7". The side called 'The dark secrets of doctor Perati' is a kind of drony piece with long stretched synth sounds, but layered in that are all kinds of acoustic elements, varying from squeaking doors (?) to rhythmic pulses and with a great ending! The other side, 'Prometheus', sounds more open and dynamic, almost like a radioplay. The combination of both sides works well and offers a good impression of what
these two smokers can achieve. Certainly just as good as their 3"! (MG)
Address: http://www.kormplastics.nl (from: Vital Weekly)
The Tobacconists is the duo project of Frans and Scott Foust, who toured Europe in 2009 (see here for a report of the English leg). I'd already received a copy of this excellent seven-inch single (PLINKITY PLONK PLINK 024 / SWILL RADIO 031) from Scott as part of another package. Both sides combine tapework with highly ambiguous electronic music to form semi-narrative tableaux, again like fragments from imaginary films. 'The Dark Secrets of Doctor Perati' is clearly the more narrative of the two, evoking a kind of film-noire spy movie vibe with an extremely threatening undercurrent; while 'Prometheus' repeats the sound of a match striking (presumably something very familiar to de Waard and Foust, as confirmed heavy smokers trying to make the world safe for tobacco wherever they go). From this common household object, the creators spin a sonic statement on the myth of this fire-stealing demi-god. The striking cover design resembles a Baedeker from the 1930s; who knows what strange lands such a tour guide would direct you to? (from: http://www.thesoundprojector.com)
The Tobacconists ­ The Dark Secrets of Doctor Perati Prometheus 7" (Plinkety Plonk/Swill Radio)
The Tobacconists 7"
Duo found sound/synth textures from the duo of Frans de Waard (Kapotte Muziek, Beequeen) and Scott Foust (Idea Fire Company), rolling through two sides of dissected radio theatre. Sounds drift in and out in sequence, from percussive, cyclical rattling to choral snippets, building up and out of a deep, bassy, cosmic synth bed. Those recent Idea Fire Company releases made tell of Foust's mastery over the synthesizer, and it's put to good use here, de Waard wailing for his life on creaky-door sax against the dominating rumble. Two-sided affair, unnamed tracks; the flip (the "Prometheus" side) sounds like that old TV commercial for Sominex, the sleeping pill that rocks back and forth like a metronome, assaulted with windscreen abuse and disruptive, shocking rumblings of noise and force. Pretty cool. 200 copies, silkscreened sleeve, hand-stamped labels. (http://www.anti-naturals.org/swill)
(Doug Mosurock) (From: http://still-single.tumblr.com/page/4)
Vinyl ist wieder da. In allen Größen. Frans de Waard & Scott Foust aka THE TOBACCONISTS schicken als Appetizer für eine kommende LP auf Tourette Records eine 7" voraus: The Dark Secrets Of Doctor Perati / Prometheus (plink 24 / swill radio 031). Der A-Track sirrt und bohrt, zwitschert und quietscht so erbärmlich wie Pierre Henrys berühmte seufzende Tür. Ein Orgelhalteton kommt hinzu und dazu summt ein Männerchor sonor auf uuuuuuuu. Die B-Seite ist konkreter, regnerisch, windig, ein dicker Brummer wummert ans Mikrophon, darum herum herrscht perkussiv kruspelnde, geräuschhaft betriebsame Unruhe. Das Cover ist ein netter Zweit-Rip-Off von einer sowjetischen Zigarettenmarke. (From: Bad Alchemy 65)