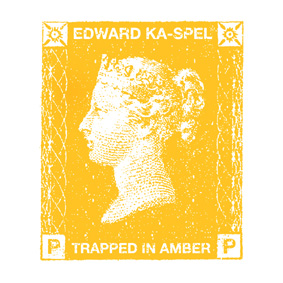 Edward Ka-spel - Trapped In Amber
Plinkity Plonk 25
LP only - Limited edition of 350 copies
Does Edward Ka-spel need any introduction? Frontman of The Legendary Pink Dots, solo artist, member of Tear Garden and a fine man for fine music. On Korm Plastics we released the LP 'DNA Le Draw Dkee' a long time ago, and ever since Edward wanted to do another one. Here it is, a fine succesor to 'The Painted River of Regrets', two pieces of melancholic, ambient based music. Entirely instrumental. Cover design by Rutger Zuydervelt (Machinefabriek).
Listen to excerpt
This LP is available for 25 euros including worldwide shipping. You can pay with paypal. Send an e-mail to order
This package of goodments arrived in early December from the estimable Frans de Waard in Holland, representing four of the known current formats employed for musical transmission and also aspects of this tireless man's creative endeavours as a creator and publisher of sound art. Hearing the LP Trapped In Amber (PLINKITY PLONK PLINK 25) by Edward Ka-Spel turned out to be one of those 'light slowly dawning' experiences for this listener, a proposition that seemed unremarkable and unexciting at first which gradually revealed a wealth of interesting detail. Two side-long suites are the title track and 'Christmas On The Moon', each suite in turn made up perhaps of two or three separate compositions faded and stitched together with fine skill and craft. Ka-Spel, the principal force behind UK underground heroes The Legendary Pink Dots, fuses romantic piano playing, delicate synth melodies and unusual field recordings together into understated, complex works, which are very like (and I don't say this lightly) the soundtracks to imaginary films. Especially the first side, with its half-suggested narrative content. The second side has more than a tinge of Harmonium, Cluster and Tangerine Dream woven in amongst its fleeting beauties, while the first side with its street-sounds (dogs, children calling) suggesting a vaguely exotic foreign sunlit land, once again confirms my suspicion that Ka-Spel is becoming the next Paul Bowles, lounging around Tangiers in a white suit as he reflects ruefully on the tapestry of his past years. An extremely listenable and slow-paced LP results, rippled throughout with strange unknowable nostalgic moods. (From: http://www.thesoundprojector.com)
EDWARD KASPEL - TRAPPED IN AMBER (LP by Plinkity Plonk)
The Penny Black postage stamp that graces this new Kaspel album is something quite special; it was introduced on 6 May 1840 as the first-ever stamp in history. It marked a revolution in the world of the postal delivery; before its introduction the mail had to be paid for by the receiver, which obviously created a few problems, when more and more receivers simply refused to pay for their mail. In the new system it was the sender who had to buy the one Penny stamp beforehand, which made sure the post received their money and, with a little luck, the receiver the letter. Being the first stamp ever, the Penny Black is quite a desirable item in the world of philatology. Parallels can be drawn between the stamp and the music on this album. First of all, there is an Englishness about the music of Kaspel that is equal to that of the Penny Black. And, in a sense, this album also sounds like the start of something new for Kaspel. Trapped in Amber is a reference to fossils that are trapped in amber, like a time-capsule. Fascinatingly enough, this album sounds a bit like a time-capsule itself. Like the music is frozen into time. Trapped in Amber sounds like a natural follow-up to Painted Rivers of Regret, which is one of the best Kaspel solo records in years, and is, like its predecessor, fully instrumental. Trapped in Amber does not disappoint. In fact, it shines and shimmers throughout the two side-long tracks. Side one, the title track, opens with a brief operatic female voice, that leads into a gorgeous shimmering piano theme with added gated reverbed sounds. The music has a gentle quality, sounding at times so hesitant it feels the music could break down any second. The side ends with more operatic female voices. A true beauty. The second side Christmas On The Moon surprisingly starts with a bright keyboard sequence/rhythm that instantly flashed my mind back to the Sand LP by Ragnar Grippe, which, accidentally, is a brilliant album well worth listening to. To this sequence various sounds and environmental recordings are sparsely added. A melody line is introduced. That may sound like a simple concept, but it takes a lot of talent to make this work. Kaspel pulls it off beautifully. Even though this pressing is limited to 350 copies, it remains to be seen of course if this album becomes as collectable as the stamp. It is however, just as brilliant. (From: Vital Weekly 708)
Trapped In Amber (plink 25, LP) ist ein besonders schönes Teil von EDWARD KA-SPEL, mit einem Titelstück, das die ganze A-Seite einnimmt, und dem ebenfalls seitenlangen ,Christmas On The Moon' auf der Rückseite. Elegischer Spieluhrklingklang weckt Kindheitsgefühle. Zunehmend traumhaft tremolieren Gitarrensaiten zu vagen Stimmen und Hundegebell weit im Hintergrund. Ein Synthiedrone webt sanft und wehmütig an zartbitterer Melancholie. Gedämpft verhallt kaskadierende Perkussion. Schritte, Stimmen, wie Erinnerungen an Spiele der Kindheit, in Bernstein erstarrt. Ka-Spel spinnt da ein weiteres Kapitel an einem Dreamscape, der wie ein Kabinett aus matten Spiegeln gegen unendlich geht: Dream Logik... Melancholics Anonymous... Saturn's Rings... The Painted River Of Regrets... Dream Loops... Zuletzt hört man eine Opernsängerin, wie aus älteren und schon nicht mehr nur persönlichen Erinnerungsschichten. Gewendet, verbreiten schnelles Ticken, Loopkreisel, eine Dröhnwelle und Pianoreveries lunare Weihnachtsstimmung. Als würden unermüdliche Rentiere schnell dahin traben, mit rasselnden Schellen, zu verwehtem Gesang. Davon bleiben nach einem Moment der Stille nur schleifende Geräusche, ein zittriger Orgelton und feines Echo des Pianos. Bis doch wieder der Synthie in Schwung kommt, motorisch und feierlich zugleich. Ich bin beeindruckt. (From: Bad Alchemy 65)