PLINKITY PLONK release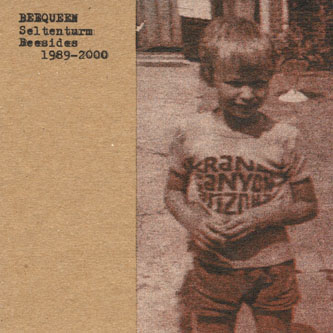 BEEQUEEN - SELTENTURM - THE BEESIDES
Plinkity Plonk plonk 22
2CD set - 300 copies only
It has been something of a wait, but Beequeen has opened up their Vaults once more. After the succesful release of A Touch Of Brimstone in 2003, we now very proudly present SELTENTURM - BEESIDES (1989-2000). This brand new collection takes in many previously released but now unobtainable Beesides in the double CD format. A treasure-trove of the past!
While Beequeen recently finished recording 'Sanddancing' (their next excursion into the world popmusic - a journey beginning with 'Ownliness' and 'The Bodyshop'), which will be released early 2008 by Important Records, it was time to clear out the vaults; and this time for good. While 'A Touch Of Brimstone' saw the release of many unreleased pieces from the archive, 'Seeltenturm - The Beesides' takes a good look at the released output from Beequeen, ever since they started to release music in 1989.
SELTENTURM (a fine double CD) consists of the following releases: 'Mappa Mundi' (cassette, with bonus tracks), 'Fond' (one sided LP), 'Split' (split LP), 'The Surrough Gate' (10"), 'Vault' (7"), 'White Tusk' (7") and 'Dovidzdane Vanja' (7"). All of these releases were made in editions smaller than 250 copies, and all long out of print. All tracks have been lovingely remastered by Raymond Steeg in the warm winter of 2006-2007 and they have never sounded better.
A real treasure box for old and new fans alike. Limited edition of 300 copies in gorgeous printed artwork. Design by Meeuw.

This CD is available for 18 euros including worldwide shipping. You can pay with paypal. Send an e-mail to order

reviews
Artist: BEEQUEEN [ info {at} beequeen {dot} nl ]
Title: Seltenturn Beesides - 1989-2000
Format: 2CD (double CD)
Label: plinkity plonk [ info {at} beequeen {dot} nl ]
Rated:
Trip peacefully along with this 130-minute collection from the cult duo Beequeen - Freek Kinkelaar (also playing solo under the name Brunnen) and Frans DeWaard (Goem, Kapotte Muziek, Shifts, Quest, Freiband ...). Seltenturn is a double cd collection of remastered oldies unavailable for a long a time : 'Mappa Mundi' (cassette, with bonus tracks), 'Fond' (one sided LP), 'Split' (split LP), 'The Surrough Gate' (10"), 'Vault' (7"), 'White Tusk' (7") and 'Dovidzdane Vanja' (7"). "The Surrough Gate" was released on Ant-Zen (!!!) in 1997 and shows them dealing both with concrete sounds and then in a terrific ambient tracks with conversation pieces on the background. The Mappa Mundi cassette was recorded on 1989 and has the lovely psychotic calmness of Cranioclast's first works, alternating typical droney compositions to more abstract ones - "Land above us" is possibily the best track here, slowly exposing the core of the drone with throbbing
analogue bubbles. "Dovidzdane Vanja", which means "The Death Of Beequeen", was a 7" out in 2000 that is the farewell to their melanchonic soundscapes. (The duo recorded many other dronework s under the name Wander - http://www.beequeen.nl/wander.htm ). This awesome collection is both the best starting point for the new listeners that want to know about the more experimental side of Beequeen and absolutely necessary for completists. Ltd Edition of 300.
Review by: Andrea Vercesi for Chain DLK

BEEQUEEN - SELTENTURM: BEESIDES 1989-2000 (2xCD by Plinkity Plonk/Korm Plastics)
Nijmegen's duo Beequeen (Frans de Waard and Freek Kinkelaar) release a compilation of 23 various works recorded since 1989. Certainly one of the more notable experimental outfits of the last two decades, this collection numbingly sets a certain tone (or atones) both to the past and future. There's a delicate balance of low chords breaking into dark ambient space ("Does He Do As If He Is") from their 1994 recording 'Split'. You're in the dark, someone is casting a vague echo while slowly bowing a cello, you see a faint light. There is this sense of passing figures, black on black shadowy movements hinted at in your peripheral view. At points queasy, others like your spinning in a Spanish villa for just a dazzling moment ("Fond II"). They firmly use the guise of industrialisms to build the droning layers of works like "Land Above Us" which has both a sense of open continuum and repeat cycle that can, for many, become unnerving. Though, they do so with a certain grace that kind of rounds the corners of chaos. The final stage of production, so to speak. And the point is clear, these two men have built a passionate body of work that is at once striking for its qualities emulating the codec of film, secondly they have used that motif to concoct music which is out of the personal body, told from the vantage point of the other. And third, it takes you some place you may have not dared, distinctively told with a fusion of pace, timing, fore/background. Then there are these themes of meditation, observation, then realization. When you sample tracks like "Brasillian Fond" (1989), you are just barely eavesdropping by way of the slight incorporated field recordings. Part mysterious travelogue, part staging for how you might compose music to send to navigate the hole in the ozone and then into the deep universe to cultivate answers to its questions. The work of Beequeen simply trips the mind. (TJ Norris)
Address: http://www.kormplastics.nl (VItal Weekly 593)

Wenn wir uns in dieser Ecke schon einmal umschauen, dann können wir ja mal einen kleinen Abstecher zu BEEQUEEN machen, die ja auch schon seit '89 unterwegs und dabei überaus produktiv sind. Da die meisten Veröffentlichungen nur auf Kleinstlabel und in limitierten Stückzahlen erschienen, haben sich die Niederländer nun dazu entschlossen diese Stücke zu re-mastern und als Doppel-CD wiederzuveröffentlichen. "Seltenturm-The Beesides 1989-2000" (Plinkity Plonk Rec./A-Musik) ist wie eine verstaubte Bibiliothek, einige Bücher gefallen einen, andere interessieren einen überhaupt nicht und manchmal entdeckt man beim stöbern eine längst vergessene Perle. Irgendwo zwischen Musique Concrète, ambienten Experimenten und Fieldrecordings dürfte aber für jeden etwas dabei sein. Außerdem ist es eine gute Möglichkeit einen ersten Einblick in die Klanglandschaften von Frans de Waard und Freek Kinkelaar zu bekommen, die ja auch noch in diversen anderen Projekten weltweit involviert sind. Basiswissen. (7/10) Carsten Vollmer in Paragraph 39