A Collection of Texts About Music
a book by Frans de Waard
first edition, hardcover, 90 pages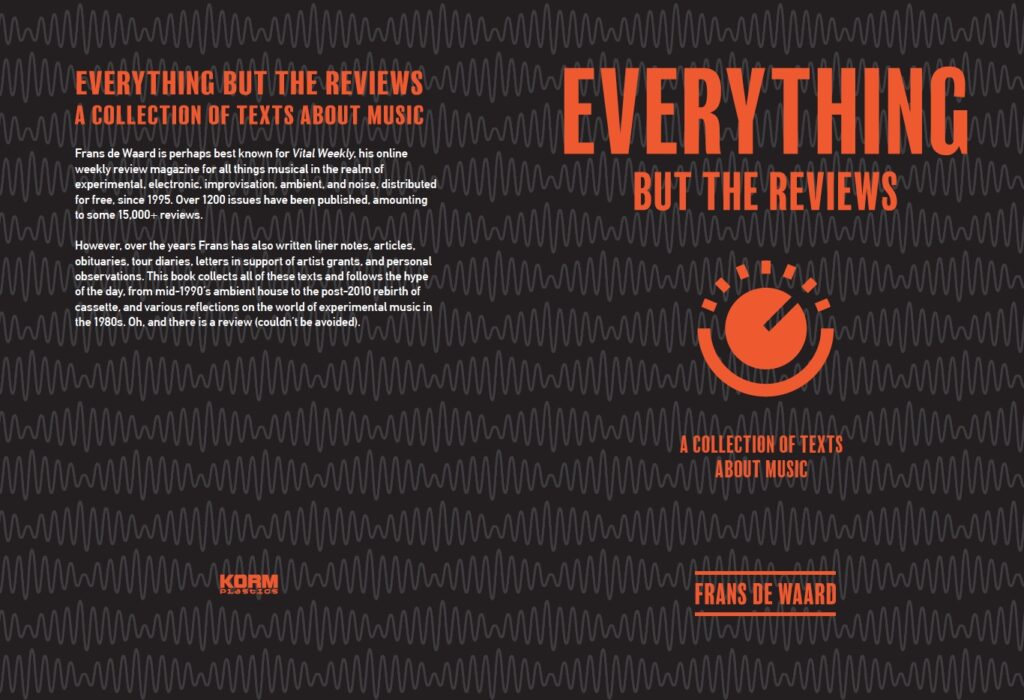 Frans de Waard is perhaps best known for Vital Weekly, his online weekly review magazine for all things musical in the realm of experimental, electronic, improvisation, ambient, and noise, distributed for free, since 1995. Over 1200 issues have been published, amounting to some 15,000+ reviews.
However, over the years Frans has also written liner notes, articles, obituaries, tour diaries, letters in support of artist grants, and personal observations.

This book contains liner notes for Roel Meelkop, THU20, John Cage 4'33 CD, If Bwana, Stillupsteypa, Trax Records, Rising From The Red Sand, Vice, press texts for Muslimgauze and Autopsia, tour diary Kapotte Muziek 1993 and 2001, texts about Noise Makers Fifes, Jason Zeh, Andy Ortman, essays about ambient music, electronics music, favourite music, cassette revival, Enno Velthuys, reviewing, Bjerga/Iversen, obituaries for Koji Tano, Christian Nijs, Geert Feytons, John Watermann. And one review, Peter Hook's book on New Order.
design by Alfred Boland

SOLD OUT