Softcover, 196 pages, 21×21 cm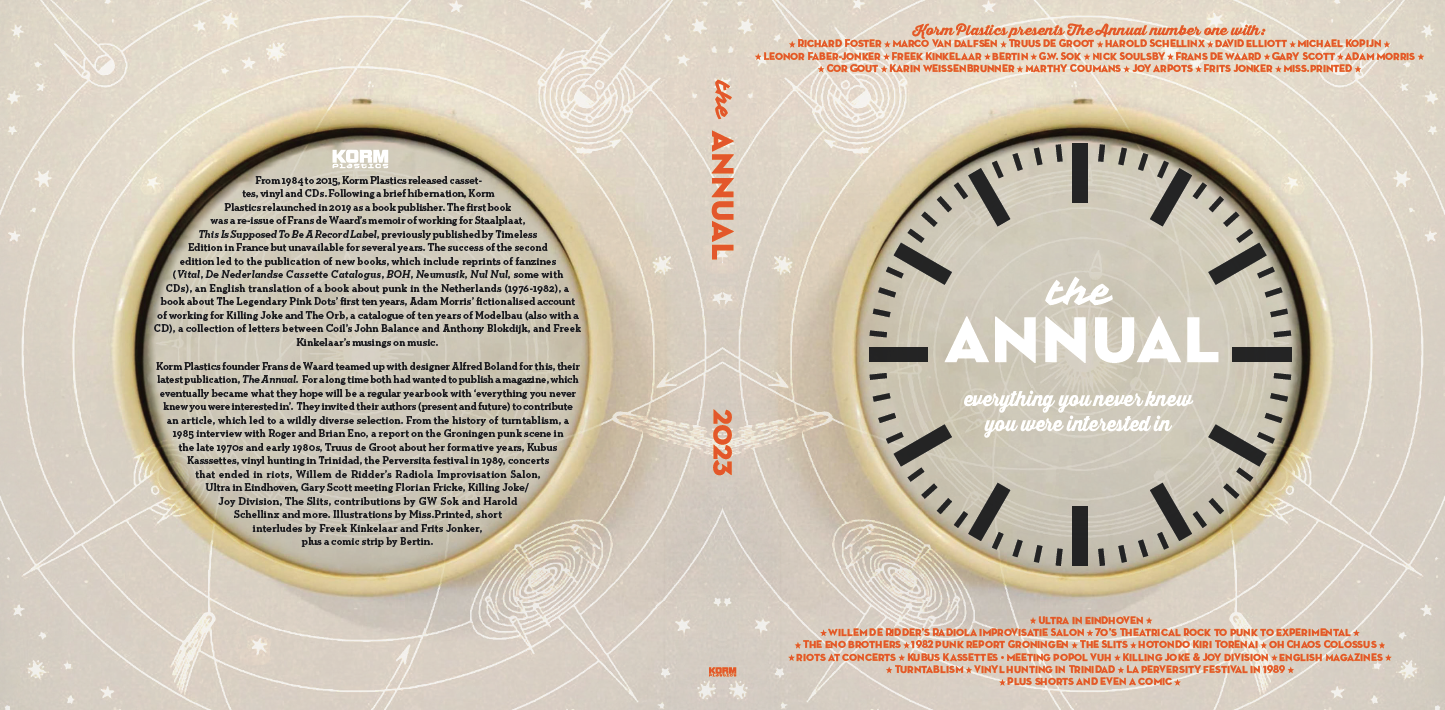 From 1984 to 2015, Korm Plastics released cassettes, vinyl and CDs. Following a brief hibernation, Korm Plastics relaunched in 2019 as a book publisher. The first book was a re-issue of Frans de Waard's memoir of working for Staalplaat, This Is Supposed To Be A Record Label, previously published by Timeless Edition in France but unavailable for several years. The success of the second edition led to the publication of new books, which include reprints of fanzines (Vital, De Nederlandse Cassette Catalogus, BOH, Neumusik, Nul Nul, some with CDs), an English translation of a book about punk in the Netherlands (1976-1982), a book about The Legendary Pink Dots' first ten years, Adam Morris' fictionalised account of working for Killing Joke and The Orb, a catalogue of ten years of Modelbau (also with a CD), a collection of letters between Coil's John Balance and Anthony Blokdijk, and Freek Kinkelaar's musings on music.

Korm Plastics founder Frans de Waard teamed up with designer Alfred Boland for this, their latest publication, The Annual. For a long time both had wanted to publish a magazine, which eventually became what they hope will be a regular yearbook with 'everything you never knew you were interested in'. They invited their authors (present and future) to contribute an article, which led to a wildly diverse selection. From the history of turntablism, a 1985 interview with Roger and Brian Eno, a report on the Groningen punk scene in the late 1970s and early 1980s, Truus de Groot about her formative years, Kubus Kasssettes, vinyl hunting in Trinidad, the Perversita festival in 1989, concerts that ended in riots, Willem de Ridder's Radiola Improvisation Salon, Ultra in Eindhoven, Gary Scott meeting Florian Fricke, Killing Joke/Joy Division, The Slits, contributions by GW Sok and Harold Schellinx and more. Illustrations by Miss.Printed, short interludes by Freek Kinkelaar and Frits Jonker, plus a comic strip by Bertin.
Price: 19 euro, worldwide postage paid.
(postage is non-tracked, for tracking please ask)

Banktransfer is always preferred.
(RABONL2U) IBAN NL25 RABO 0167 8338 55 from F.W.F. de Waard

Payment via Paypal to info@kormplastics.nl (as 'friend' is preferred) and send an e-mail with shipping address to: info@kormplastics.nl
A combined book order might save postage cost. Check our titles